Written by
Ivan Hurst
Published:
21 September 2016
Hits:
25276
Category:
Article Index
Page 1 of 2
Day one of our Grand Tour
We did the shopping and filled the truck and parked it up ready for the morning. I arrived at Woolworth's car park in the centre of Hatfield ready for our early departure and waited for Pete and Chris to arrive whilst warming up the engine. I think it may have been raining lightly. Eventually Pete turned up, but without Chris. That morning she had decided than she was not coming. She would stay in the UK and wait for him to return. Pete and I discussed this and then, all things sorted out, we departed for our Grand Tour, our first grand adventure.
So, not such a good start to day one.
We had only planned the departure, everything else was in the lap of the Gods
We had a ferry to catch. Not a huge amount of discussion about our latest drop out. No recriminations, either about Chris or any of the others. In fact it was better not to come if your heart was not in it, if you were not sure. If you are going on a trip, or anything else for that matter, and you are only doing it because of a perceived duty, or because some time in the past you said you would, it is difficult to maintain a front of enjoyment. This is even more acute when that trip is for six months or more. We had only planned the departure, everything else was in the lap of the Gods, as it were.
Anyway, as I write this, I am thinking, thanks Chris for not coming, How would three have worked? Yes, there were three seats in the cab, so that was not a particular problem, just a bit cozy. Would Pete and I expect Chris to do all the cooking and cleaning as we were the only drivers? Then there is the question of the nights. There were no separate bedrooms in the back of the truck. It was totally open plan, and I mean totally. Everything that was to happen would be in full view of anybody else. There was no privacy. How long would it be before relationships would have become strained? Or would it have evolved into nightly threesomes? So, all in all, I think Chris made the right decision, both for her and the trip. Enough of the now, and back to the then.
Hatfield is a small town North of London. Currently it has the A1(M) running through it with a shopping centre built above part of the motorway. At the time there were discussions going on about what to build and what to demolish. Consultation papers were distributed around the collage. The most extreme proposal appeared to be a 16 lane wide road. This sounds unbelievable, but it was made up of the motorway, junction roads, the existing bypass and distributor roads. A simpler solution was eventually found. Graham Byles, our friend who was to be our navigator, in previous iterations of this trip, lived in one of the blocks of flats that were due to be demolished. As I recall, he was of the opinion that anytime would not be soon enough to get rid of the rat infested, ... flats, that were just an eyesore on the horizon.
Well that is what happened, in the future. We left the town centre car park, it was to be early in the morning, before the traffic started to pickup, but ended up later than planned. A short drive got us to not the Grand Asian Truck Road, I must stop calling it that, its proper name is Grand Trunk Road, but to the Great North Road. A roman road between London and Scotland. Follow the sign Hatfield and the North.
Then just head south on the A1 towards London, as the traffic slowly built up. Crossing London was uneventful, joining the A2 / A20 and off towards the port of Dover. Dover Ferry Photos Forums - past and present. A posible contender for the ship is MV European Trader More research required. Another possibility is the Townsend Thoresen Free Enterprise IV, with poscard below.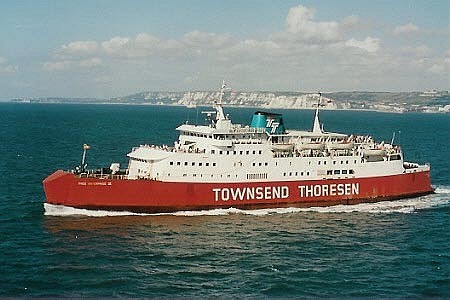 We arrived at the port in plenty of time at the paperwork was processed without hassle. I seem to recall that Customs put a dog in the back of the truck, all very friendly, but added, "it's just so you know, and are not tempted to bring anything back." Fair enough!
The trucks go on to there own deck on the car ferry, away from the cars, and are strapped down, in case of rough seas. The deck hands ensure maximum use is made of both the space and the strapping down points. It was our turn. I was driving, Pete in the passenger seat. We were pointed to a particular lane and I squared up inside it, driving slowly up to the truck in front, which was already in its final position. The deck hand waved me forward, we were obviously not close enough. He stood in front of me and guided me closer to the truck in front.